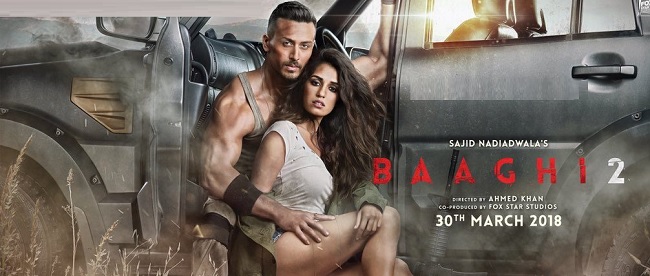 Baaghi 2 Dialogues: Here You Get All A To Z Dialogues Of Bollywood Movie "Baaghi 2 Dialogue" Full Movie Name is "Baaghi 2: Rebel For Love". This Is An Action Movie. Baaghi 2 Is A Movie Casted On Tiger Shroff, Disha Patani Directed By Ahmed Khan With Other Supporting Actors Are Shifuji Shaurya Bharadwaj, Prateik Babbar, Manoj Bajpayee, Randeep Hooda and Deepak Dobriyal Playing An Important Role In Baaghi 2 Movie. Dialogues Of Baaghi 2 Movie & Baaghi 2 Movie Punch Lines Along With Baaghi 2 Dialogues Lyrics Of The Movie Can Be Found Below. Get Yourself Dialogue Savvy Impress Your Friends Colleagues GF/BF. Act Like Movie Star Tiger Shroff, Disha Patani And Become A Star With The Dialogue Of Baaghi 2. Here Are The Baaghi 2 Dialogue Which Might Get You Crazy.
Top Baaghi 2 Dialogues:
One Man Army Ke Baramein Suna Hai, Wo AKela He Poori Fauj Ke Barabar Hai.
Jo Tera Yai Torture Hai… Wo Mera Warm Up Hai.
Wo Kahawat Suni Hai… Ek Sada Huwa Aam Poori Peti Ko Barbad Kar Deta Hai .
Itna Todunga Na Ke Akad Nazakat Me Badal Jai Ge.
Is Ladai Me… Uska Kuch Nahe Bigdeyga… Our Tumhara Kuch Bachchega Nahe.
You Can Also Read: 2.0 Dialogues
Tiger Shroff Baaghi 2 Dialogues:
"Pather To Theek Tha Sir… Unhai Tiranga Nahe Jalana Chaheyai Tha…"
---
"Problem Solve Karne Aya Hoon Badhanay Nahe"
---
"Brabari Ka Mauqa Day… Tujhai Fauj Ke Takat Dekhata Hoon"
---
Disha Patani Baaghi 2 Dialogues:
"Aa Mister Michael Jordan Apna Game Na Basketball Court Pe Dekhana Mujh Jaise Ladkiyo Pe Nahe"
---
"Ugle…. Meri Photo Bhe Daikhaiga To Girjaiga"
---
Manoj Bajpayee Baaghi 2 Dialogues:
"Qaiday Me Rahogay To Faiday Mein Raho Gay"
---
"Wo Kahawat Suni Hai… Ek Sada Huwa Aam Poori Peti Ko Barbad Kar Deta Hai"
---
Randeep Hooda Baaghi 2 Dialogues:
"Jaisai Udtay Punjab Ko Zameen Pe Lay Aya… Waise Doobtay Huyai Goa Ko Bhe Kenarai Pe Pahochana Hai"
---
"Or Ek Baat Tu Kaan Khol Ke Sun Lay… Apna Dimag… Ghar Ke Ghanti… Or Phone… On Rakhna Hamesha… Nahe To Hamesha Ke Liyai Off Kar Dunga Tere Ko"
---
Other Baaghi 2 Movie Dialogues:
"Pathther Maarne Par Insaan Ko Mardena…. Yai Konsa Rule Hai"
---
"Hum Bandook Laykar Bhe Paththar Khatay Hain"
---
"Daikho Miya Jung To Chidh Gae Hai… Bahar Nahe To Tumhare Andar"
---
"Jub Jung Dil Or Dimag Ke Hona Mia… Toh Hamesha Dil Ke Suno… Q Ke Dimag Ka Hota… Dahe"
---
"Lagta Hai Dilne Dimag Ko Over Take Karliya"
---
"Goa Mein Sirf Do He Cheez Famous Hai Bhaiya… Nakay Nakay Pe Bear Bar Or Gali Gali Me Suman Langday Ke Car"
---
"Aray Miya Aap To Pooray Desh Ke Security Niklay"
---
"Court Kya Lungi Me Bataiga…"
---
"Anjuna Border Ke Pechai… Dus Hactor Jungle Me… Chattano Ko Cheerte Hue Nadiyan… Un Nadiyo Ke Beech Mein… Bandooko Se Lase Aadmi… Is Poori Fauj Kay Becho Beech Mein Rehta Hai Uss Jungle Ka Shairgill"
---
"There Is Nothing Personal In The Armay"
---
"Commando Saath Din Hai Tumhare Pass… Aathwai Din Ke Pehli Train, Unit, Baarak, Uniform, One Men Tumhara Intezaar Karaigay"
---
Baaghi 2 Dialogues in Image: