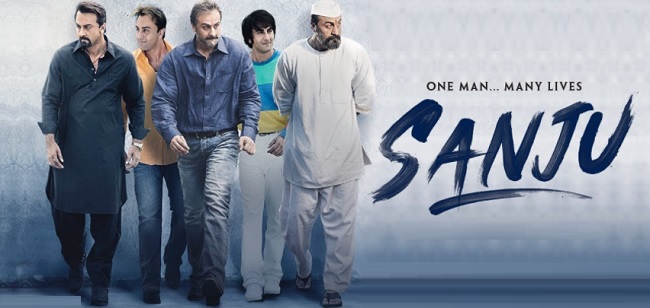 Sanju Movie Dialogues: Here You Get All A To Z Dialogues Of Bollywood Movie "Sanju Movie Dialogue" Full Movie Name is "Sanju: One Man… Many Lives". This Movie Is All About Sanjay Dutt Biographical Drama. Sanju Is A Movie Casted On Ranbir Kapoor, Sonam Kapoor, Directed By Rajkumar Hirani With Other Supporting Actors Are Paresh Rawal, Karishma Tanna, Manisha Koirala, Jim Sarbh, Anushka Sharma Playing An Important Role In Sanju Movie. Dialogues Of Sanju Movie & Sanju Movie Punch Lines Along With Sanju Movie Dialogues Lyrics Of The Movie Can Be Found Below. Get Yourself Dialogue Savvy Impress Your Friends Colleagues GF/BF. Act Like Movie Star Ranbir Kapoor, Sonam Kapoor, And Become A Star With The Dialogue Of Sanju Movie. Here Are The Sanju Dialogue Which Might Get You Crazy.
Top Sanju Movie Dialogues:
Main Ne Pehli Baar Drug Le Q Ke Main Dad Se Naraz Tha, Dousre Baar Q Ke Maa Bemaar The, Teesri Baar Tak Main Drug Addict Ban Chuka Tha.
Gheechay To Ghapa Ghap Chay.
Cigarette Hamesha Left Hand se Piyo, Q Ke India Ke Saray Baap Sirf Right Hand Soonghtai Hai.
Mera Beta Koi Guzra Huwa Waqt Nahe Hai… Jo Laut Ke Wapas Nahe Aasakta.
Life Mein Do Type Ka Note Hota Hai, Ek Khara Or Ek Khota.
Tere Code Ke Chakkar Mein Ghee Ka Shortage Hogaya Or Ghapaghap Reh Gaya.
Life Mein Teen He Cheej Hai Kamli… Kha, Pa, Cha… Khana, Peena Or Cho#$N@.
Ruk Jana Nahe Tu Kabhe Haar Ke, Kaanto Pe Chal Ke Milenge Saai Bahar, Wo Rahe, Wo Rahe, Wo Rahe.
You Can Also Read: 2.0 Dialogues
Ranbeer Kapoor Sanju Movie Dialogues:
"Bapu Yani Mahatma Gandhi… Baba Yani Main Sanjay Dutt"
---
"Main Bewda Hoon, Tharki Hoon, Drug Addict Hoon, Sub Hoon… Lekin Terrorist Nahe Hoon"
---
"I'M NOT A TERRORIST"
---
"Tere Code Ke Chakkar Mein Ghee Ka Shortage Hogaya Or Ghapaghap Reh Gaya…"
---
"Har Drug Addict Koi Na Koi Bahana Khojta Hai Drug Wapis Shuru Karne Ke Liyai… Mera Bahana Ruby The"
---
"Kapdo Ke Ahmiyat Us Din Samajh Mein Aae! Jab Tak Saaf Thay Lift Milte Rahe… Or Jab Mailay Huway To Bheek Milnay Lage"
Sanju Movie Shayari:
Na Mooh Chhupa Ke Jiye Hum Na Sar Jhuka Ke Jiye…
Sitamgaron Ke Nazar Se Nazar Mila Ke Jiye…
Ab Ek Raat Agar Kam Jiye To Hairat Q…
Ke Jab Talaq Jiye Mashalay Jala Ke Jiye…
---
Paresh Rawal Sanjay Movie Dialogues:
"Roz Hazaro Log Is Shahar Mein Actor Bannai Atai Hai Puttar, Dhakkay Khatay Rehtai Hain, Tumhai Yai Jo Bane Banayi Zindagi Mil Gayi Hai Aram Se Wo Respect Hai"
---
"Ruk Jana Nahe Tu Kabhe Haar Ke, Kaanto Pe Chal Ke Milenge Saai Bahar, Wo Rahe, Wo Rahe, Wo Rahe"
---
"Hum Actoro Ka Kaam Hai Imagine Karna, Samnai Koi Bhe Ho Tujhai Uske Andar Ek Khoobsurat Heroin Dikhne Chaheyai"
---
"Shastro Ke Anusar Vastr Ko Hamesha Waqt Ke Sath Se Pahenna Chaheyai"
---
"Shakespeare Ne To Kaha He Hai… All's Well That Ends Well"
---
"Underworld Se Dosti Karayga To Press Wale Pechai Padaingay He Na"
---
Boman Irani Sanju Movie Dialogues:
"Yai Career Tumko Rubber Band Ke Tarah Left Khechaiga Right Kheechaiga, Lekin Agar Tum Honest Rahaiga Na Khara Rahaiga Na To Tumhara Kabhe Nahe Phatayga"
---
Other Sanju Movie Dialogues:
"Tiger Hai Tu Tiger… Roar, Roar Roar"
---
"Kar Har Maidaan Fataih"
---
"Eeta Matlab… Anda, Egg… Humari Family Mein Eeta Boltay Hain"
---
"Tera Eeta Phoot To Nahe Gaya"
---
"Gheechay To Ghapa Ghap Chay… Translate Kar… Ghee Maltab Paisa… Or Ghapa Ghap… Sex"
---
"Humare Gaon Mein Ek Kahawat Hai… Gheechay To Ghapa Ghap Chay"
---
"Life Mein Teen He Cheej Hai Kamli… Kha, Pa, Cha… Khana, Peena Or Cho#$N@"
---
"Hamare Family Mein CONDOM Istemal Nahe Kartay Is Liyai Bahot Bada Family Hai… Hahaha"
---
"Sun Rise Ka Short Agar Sunset Ko Deta Raha Na To Ek Din Career Ka Sunset Ho Jaiga"
Sanju Dialogues Image: