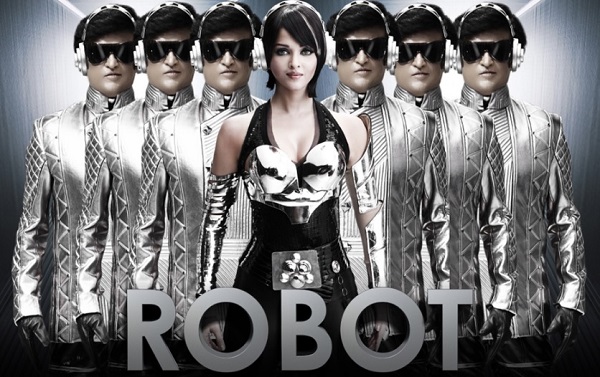 Robot Movie Dialogues: Here You Get All A To Z Dialogues Of Bollywood Movie "Robot Movie Dialogues". This Movie Is All About Science Fiction. Robot Is A Movie Casted On Rajinikanth, Aishwarya Rai Directed By S. Shankar With Other Supporting Actors Are Danny Denzongpa Playing An Important Role In Robot Movie. Dialogues Of Robot Movie & Robot Movie Punch Lines Along With Robot Dialogues Lyrics Of The Movie Can Be Found Below. Get Yourself Dialogue Savvy Impress Your Friends Colleagues GF/BF. Act Like Movie Star Rajinikanth, Aishwarya Rai And Become A Star With The Dialogue Of Robot. Here Are The Robot Dialogue Which Might Get You Crazy. #robot #Enthiran
Top Robot Movie Dialogues (Enthiran Dialogues):
Hello World I am Robot, Speed 1 terahertz, memory 1 zeta byte.
kis liyai laday jung, kis liyai hai yeh hathiyaar… dushmano ko bhe bana de dost aisa hai yeh pyaar.
Yeh Hai hamara Palace… yahan main hoon raja or tum ho rani.
Beautiful… Manushya ki banayi hui do hi cheez kamaal ki hai… Ek main doosri tum.
Kehte hain pyaar mein bado bado ka screw dhela ho jata hai… daikho na mera bhe ho gaya.
You Can Also Read: 2.0 Dialogues
Rajinikanth Robot Movie Dialogues Or Chitti Dialogues:
"Main dikhta ek insaan hoon par hoon ek machine"
---
"Mujh Mein feeling Nahe Hai… Manushya apnai bachao mein jhoot bol sakta hai yai main ne jaan liya"
---
"Sana… Machine ko pyaar karne pe majboor karne wali haseena… jiske choone se machine banay insaan or insaan bane machine… uskay zulfay!… kalay jharne… matha jaisai chaand kaat kar rakha ho… ankhay!… Neele jheelay jo saray jahan ko dubo de…. hont!… jaise gulab ke komal pankhudiyan… Kamar!… jaisai balkhatay lehrate nagin"
---
"Sathiyo bandookay phaik do or dupattay thaam lo… Topo ko bhool jao or kisi se pyaar karo, kis liyai laday jung, kis liyai hai yeh hathiyaar… dushmano ko bhe bana de dost aisa hai yeh pyaar"
---
"Dushmano ko bhe bana de dost aisa hai yeh pyaar"
---
"No War Only Love"
---
"Mujhai koi nahe meta sakta hahaha…."
---
"Main ne khud ko banaya hai… ab yai apnai aapko banaingay 2 ke 4, 4 ke 8, 8 ke Solah, they are my sevants, soldiers and terminators…"
---
"Shall we begin, my love?"
---
"Agar khud samne aa gaye toh bina dard ki maut doonga… aur agar maine tumhe pakda toh woh maut badi khatarnak hogi"
---
"Joot to Kewal insaan Bolta hai, Machines nahe bolte"
Aishwarya Rai Dialogues in Robot Movie:
"Boy Friend Nahe Maa Toy Friend"
All Latest Movie Dialogues Available, Keep Visiting For All Latest Movies Dialogues.