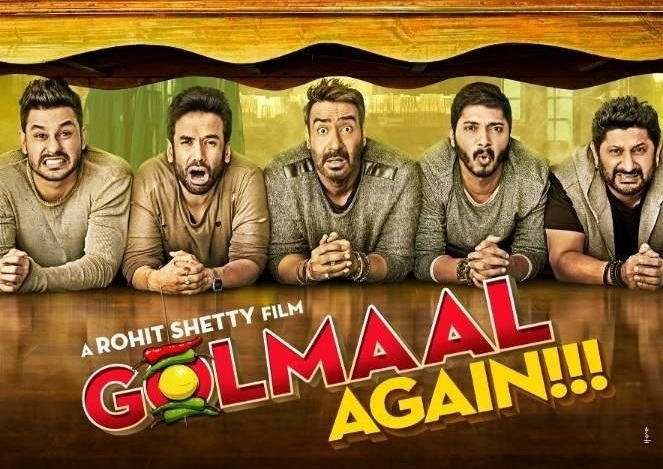 Golmal Again 2017: Golmaal Again is an upcoming 2017 Bollywood Movie directed by Rohit Shetty. Stars Cast Are Ajay Devgn, Arshad Warsi, Tusshar Kapoor, Parineeti Chopra, Kunal Khemu, Tabu, Shreyas Talpade.
Top Golmaal Again Movie Dialogues:
Gopu Sundri Hai Sundri… Apne Gali Ki Doggy Hai Sundre Hai Gopu.
Jaise Christmas Me Sub Log Bolte Hai Na Santa Ayega Santa Ayega Subko Pata Hai Ghanta Ayega…
Har Ladki Na Apne Hone Wale Me Father Figure Dhoonti Hai… Figure Uske Pass Hai, Father Tu Hai.
Insaan Hai To Darr Hai, Darr Hai To Andh Vishwas Hai, Or Agar Andh Vishwas Hai To Bhoot Hai.
Jab God Ke Marzee Hote Hai… To Cheezo Me Logic Nahe… Sirf Magic Hota Hai.
Aaraha Hai Wo… One Hundred Percent Tum Sub Ko Suli Pe Chadhaiga… Two Hundred Percent Tum Sub Ko Shamshaan Pahotchaiga… Three Hundred Percent Tum Sub Ko Saaf Kar Dega..
---
You Can Also Read: Robot 2 Dialogues
Nana Patekar Dialogues In Golmaal Again Movie:
Kya Aankhen Bahar Agae Teri, Thodi Dair Me Zaban Bahar Ajaige Asai Phad Phadatay Hue… Or Kya Bol Bol Laga Rakha Hai Main Kya All India Radio Hoon Sala Jo Tere Liyai Bajta Rahoonga.
Gopaal… Nana, Gopaal… Nana, Gopaal… Nana, Gopaaaal… To Ab Tu Nana Ke Sunai Ga, Hahaha Achcha Hai Achcha Hai.
Sala Jaisai Ek Machar Aadmi Ko Hijra Bama Deta Hai, Waisai He Murday Ko Aatma Bana Deta Hai Ek Machar.
Kya Lakshman Lakshman Laga Rakha, Hai Mimicry Nahe Kar Raha Hoon Main, Are Sotch Me Motch Le Kar Paida Hone Wale Nasamajh Ke Keday Lakshman Nahe Hoon Main.
Achcha Hai Achcha Hai… Darr Kya Hota Hai Main Tujhai Dekhonga.
Daikh Isko Kehtai Hai Asli Darr Dekh… Ootcha Makan, Pekha Pakwaan, Jamna Das ji Ka Warden Khud Le Gae The Unke Jaan, Achcha Hai Achcha Hai, Aurat Ka Pet Bada Hai To Kya Bachcha Hai.
Jamna Das Ka Gopala, Sun Ab Kya Hone Wala Hai, Jamna Das Ke Khoon Ka Badla Ab Tu Lene Wala Hai Yeh GoGoGoPu Achcha Hai.

Tere Ankhay Kaiko Balconey Me Akar Khadi Hai.
---
Golmaal Again Dialogues By Ajay Devgan:
Yai Log Bolte Hai Tu Bola… Bhoot Woot Ghusgaya Tere Andar… Bolna… Aye Kya Bolte Tu… Aye Madhav Iski To Ayye oo Ayye Bhe Band Ho Gae, Tum Log Bhe Khama Kha…. Ab Tu Sune Ga Mere Awaaz
Yai Log Bolte Hai Tu Bola… Bhoot Woot Ghusgaya Tere Andar.
---
Golmaal Again Dialogues By Shreyas Talpade:
Next Step, Best Step, Finish Step.
I am Not A Ghost… I am Your Dost.
Jamna Das Ka Nand Lala, Lakshman Ka Gopala Hai, Bhoot Ko Bhaganai Wale… Nechai Apne Naina Hai, Ay Zoozozozooo Zoozozo.
Ye Kya Bhootnia Panti Hai.
Yai Bechara Kya Bolay Ga, BIWI se Beti Bun Gae, Beti Se Bhootni Bun Gae.
---
Golmaal Again Dialogues By Tabbu:
Eem Breem, Jantar Mantar, Aatma Khatma, Plasma 32 INCH.
Aatma, Khatma, Prait Aatma, Saam Daam Dand Bhaid Eem Breem Cold Cream… Bhakti, Mukti, SubhaPrabhat, Gandi Gandi Gandi Baat.
Kehtai Hai Insaan Ke Marne Ke Baad Jub Uske Soul Ko Mukti Milte Hai… To Uske Liyai Ek Naie Journey Ke Shurwat Hote Hai Jisai Sub Log After Life Kehtai Hai, Is After Life Me Na Koi Dard Hota Hai Na Takleef, Na Sahe Na Galat, Charo Taraf Sirf Sookoon Bhari Roshni Hote Hai, Jis Me In the End Hum Sub Mil Jatay Hai, Ab Yai Such Hai Ya Nahe Yai Hum Nahe Jaantai… Lekin Haan Jab God Ke Marzee Hote Hai… To Cheezo Me Logic Nahe… Sirf Magic Hota Hai"
---
Babli Bhai Dialogues (Sanjay Mishra) In Golmaal Again Movie:
Chup Bajar Pattu, Chilgozay Khargosh, Ye Plot To Main Khali Kar Ke Rahonga…
Mere Wakeelon Key Fawad Khan.

Wah Kya Bajaya Hai Aaj Tune Mere Besuro Ke Justin Bieber.

Sahe Kaha Hai Chacha Chashmuddin Ne Charity Begins At Homework Papa.
Yaha Kullu Me Jub Dark Hota Hai To Dakiya Bhi Daak Nahe De Pata.
Kaha Gaya Mera He-Man.
Bachcho Ke RajPaal Yadav…Bachcho Ke Tarhaan Phudak Rahai Ho…
Jawano Ke Alok Nath… Yaha Mere Pahalwano Kay Sunil Shetty Ke Saath Kya Kar Raha Hai.
Aye Vikram Ke Phattu…. Daikho Babli Aya Hai.
Mere Chuho Ke Jimmy Shergill… Kya Tujhai Bhe Yaqeen Hai Yahan Bhoot Hai.
Agar Yahan Bhoot Hai To Bhoot Se Jake Keh Do… Ke Guest Appearance Me Babli Aya Hai.

Where Are You Mere Bhootnio Ke Bipasha Basu.

Kaan Khol Ke Sunlay, Tu Care Taker Hai To Main Undertaker Hoon.
So far So Good Bulao Bhootni Ko
Hello A, B, C, D
A For Aatma
B For Bhootni
C For Chudail
D For Dayan
Come on Baby Bhootni Show Your Moves.
Are Mere Fling Jet Yai Such Hai, Haan Yahan Bhoot Hai, Bhoot Hai, B Double O T Bhoot.
Kya Karay Kya Na Karay Do What Will Do Scooby Doo.
Ghost G, S,T Ghost.
Shut up Gali Mat De Maa Behain Baithe Hai.
Everybody Just Chill Call Pandu.
Show Him Your Moves Khushi Beta MTV Moves.
---
Johnny Lever Dialogues (Pappi Bhai) in Golmaal Again Movie:
Kandhari, Mere Jalay Huwai Toast.
Are Lakshan Mere Chote Bheem.

Katappa Mama, Jub Tak Tum Mere Sath Ho Mujhai Marne Wala Paida Nahe Hosakta.

Aurat Par Haath Uthanai Wale Ke Ungliya Nahe Kattay Kattay Hai Uska Gala.
Also Read: All Babhubali Movie dialogues
---
Other Golmaal Again Dialogues Or Golmaal 4 Dialogues:
Jis Tarhaan Dehla Ke Pahelai Nehla Ata Hai, Waisai He Guru Ke Pehlay Chela Ata Hai.

Mere Maa Hamesha Kaha Karte The… Tumhari Maa Hamesha Gaalat He Kehtei The Yaar, Rehne Dona Yaar Ab Karna Kya Hai Wo Batao.
Mere Maa Hamesha Kehti The Ke Bachcho Me Bhagwaan Ka Roop Hota Hai.
Bachche Mann Ke Suchchai.
Batchpan…. Patchpan.
---
Golmaal Again Movie Dialogues Image: