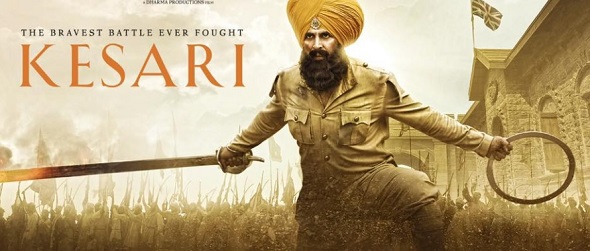 Kesari Movie Dialogues: Here You Get All A To Z Dialogues Of Bollywood Movie "Kesari Movie Dialogue" Full Movie Name is "Kesari: The Bravest Battle Ever Fought". This Movie Is All About War Drama. Kesari Is A Movie Casted On Akshay Kumar & Parineeti Chopra Directed By Anurag Singh With Other Supporting Actors Are Vansh Bhardwaj Playing An Important Role In Kesari Movie. Dialogues Of Kesari Movie & Kesari Movie Punch Lines Along With Kesari Dialogues Lyrics Of The Movie Can Be Found Below. Get Yourself Dialogue Savvy Impress Your Friends Colleagues GF/BF. Act Like Movie Star Akshay Kumar, Parineeti Chopra and Vansh Bhardwaj And Become A Star With The Dialogue Of Kesari. Here Are The Kesari Dialogue Which Might Get You Crazy.
Top Kesari Movie Dialogues:
"Ek Goro Ne Mujh Se Kaha Tha Ke… Tum Gulam Ho… Hindustan Ke Mitte Se Darpok Paida Hote Hai… Aaj Jawab Dene Ka Waqt Aagaya Hai"
---
"Kesari Rung Ka Matlab Samajhtai Ho… Bahaduri Ka Rung Hai… Shahed Ka"
---
"Aaj Meri Pagdi Bhe Kesari… Jo Bahaiga Mera Lahu Bhe Kesari… Or Mera Jawab Bhe Kesari"
Akshay Kumar Kesari Movie Dialogues:
"Bahar Kamse kam Dus Hazar hain… Or Hum Ikkisss"
---
"Aaj Teno Killay Hamare Haato Mein… Or in Killo Ke Sare Sekho Ke Pagadiya Hamare Kadmo Mein Hongay… Chal Jhoota "
Other Dialogues of Kesari:
All Latest Movie Dialogues Available, Keep Visiting For All Latest Movies Dialogues.
Kesari Movie Video Dialogues All: