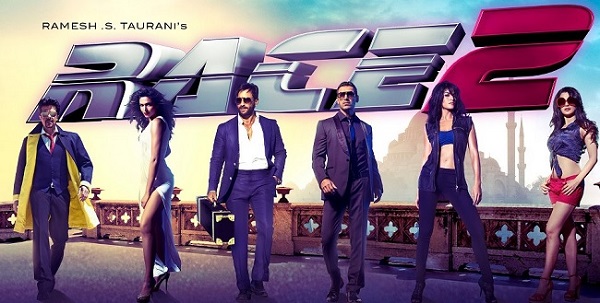 Race 2 Dialogues: Here You Get All A To Z Dialogues Of Bollywood Movie "Race 2 Dialogue" Full Movie Name is "Race 2: Betrayal is Survival". This Movie Is All About Action Thriller. Race 2 Is A Movie Casted On Anil Kapoor and Saif Ali Khan Directed By Abbas Mustan With Other Supporting Actors Are Deepika Padukone, Jacqueline Fernandez, John Abraham, Aditya Pancholi, Ameesha Patel Playing An Important Role In Race 2 Movie. Dialogues Of Race 2 Movie & Race 2 Movie Punch Lines Along With Race 2 Dialogues Lyrics Of The Movie Can Be Found Below. Get Yourself Dialogue Savvy Impress Your Friends Colleagues GF/BF. Act Like Movie Star Anil Kapoor and Saif Ali Khan And Become A Star With The Dialogue Of Race 2. Here Are The Race 2 Dialogue Which Might Get You Crazy.
Top Race 2 Dialogues:
Main Is Race Mein Pahelai Bhe Aachuka Hoon… Or Main Paisa Ghoday Pe Nahe… Jokey Pe Lagata Hoon…
Badla Jitna Poorana Hota Hai… Utna He Khatarnaak Hota Hai…
Sabar Ka Phal Meetha Hota Hai… Or Mere Samnai Phalo Ke Tokri The.
"Race Hamesha Meri The Or Meri He Rahai Ge… Q Ke Main Is Race Ka Subse Poorana Kheladi Hoon.
Nazar Teer Pe Nahe… Neshanay Pe Hona Chaheyai.
Race Jahan Se Khatam Hote Hai… Shuru Bhe Wahe Hote Hai.
You Can Also Read: All Race Movie Dialogues
---
Anil Kapoor Race 2 Movie Dialogues:
"This Is Armaan Malik… Chatur, Chappul, Or Chalaak"
---
"Aamchi Mumbai Mein Kholonga To Paatshala Kholunga… Madhu Shala Nahe…"
---
"Mix Fruit Se Ek Joke Yaad Aya… Ek Baar Sub Fruits Apas Me Baat Kar Rahai Thay… Orange Bola, Mera Shape Ekdum Ball Ke Tarhaa Hai… Angoor Ne Kaha Ke Main Kanchai Ke Tarhan Hoon… Aam Ne Kaha Ke Main Chehray Ke Tarhan Hoon, Yai Sub Sun Ke Kela Bhadak Ke Bola, Come On Change The Topic Yaar"
---
"Ameer Ko Ameer Banane Mein Wo Maza Kaha… Jo Mujh Jaisai Gareeb Ko Ameer Bananai Mein Hai"
---
"Ab Life Mujhai Khushi Chaheyai… Khud Khushi Nahe"
---
Saif Ali Khan Race 2 Dialogues:
"Time Is Money… Main Aap Ko Paisa Doon Ya Waqt… Ek He Baat Hai"
---
"Tujhai To Yai Sirf Kora Kagaz Lag Raha Hoga… Magar Mujhai Is Mein Tu Nazar Aaraha Hai… Q Ke Tu Bhe Iske Tarha Kora Ho Chuka Hai…"
---
"Agar Tu Mujhai Jaanta… To Tu Wo Kaam Nahe Karta… Jo Tune Mere Saath Kiya"
---
"Main Is Race Mein Pahelai Bhe Aachuka Hoon… Or Main Paisa Ghoday Pe Nahe… Jokey Pe Lagata Hoon"
---
"Dilchaspi Kisi Na Kisi Tarhaan Nazar Aahe Jati Hai"
---
"Race Mein Akelay He Dodna Chaheyai… Haray Bhe To Khud Se"
---
"Agar Aaj Mein Haar Gaya… To Iske Waja Hoge Tumhara Yai Hot Costume"
---
"Main Uska Wo Haal Kardonga… Ke Wo Sadak Pe Bheek Mangta Feraiga"
---
"Badla Jitna Poorana Hota Hai… Utna He Khatarnaak Hota Hai… Revenge Is A Dish Best Served Cold"
---
"Wo Kya Haina… Achche Adatain Chodne Nahe Chaheyai… Or Zinda Bachchnai Se Achche Aadat… Duniya Mein Ho He Nahe Sakte"
---
"Race Hamesha Meri The Or Meri He Rahai Ge… Q Ke Main Is Race Ka Subse Poorana Kheladi Hoon"
---
"Ispe Bharosa Nahe Hai… Magar Apnai Aap Pay Hai"
---
John Abraham Race 2 Dialogues:
"Hamaray Jaisai Paape Bhagaan Ko Pyaray Honai Lagai To To Uske Reputation Ka Kya Hoga…"
---
"Is Hero Ko Main Daodaonga… Ghoda Bhe Hero Banega, Paisai Bhe Wahe Lagaiga, Or Jeetaiga Bhe Wahe… Bus Finish Line Parkartay He… Uske Jeet Ko Apni Jeet Mein Badal Donga"
---
"let The Race War Begin"
---
"Race Jahan Se Khatam Hote Hai… Shuru Bhe Wahe Hote Hai"
---
Race 2 Dialogues by Deepika Padukone:
"Mujhai Aisai Mard Bahot Pasand Hai… Jinke Bare Mein Yai Nahe Samjh Pate…. Ke Wo Tez Zeyada Hai… Ya Good Looking"
---
Other Race 2 Dialogues:
"Thanks For Comming Abhe Boldiya To Baad Mein Kya Bolayga… Fir Milaingay… Good"
---
"Achca Huwa Chodh Diya… Nahe To Tifoon Chuda Deta"
---
"Tu Win To Main In, Tu Out To Main Out"
You Can Also Read: All Race 3 Dialogues